Join Our RCFA Webinar Series
Change the People Dynamic of Your Root Cause Investigation
Part 4 of IDCON's Root Cause Crash Course Series
TUESDAY, FEBRUARY 21st
10:30 am EST
with Tor Idhammar
President IDCON Inc
Essential Care and Inspection Techniques
In-person training. Raleigh, NC
This practical training course teaches how to care for equipment and perform fundamental condition monitoring (inspections) tasks. Through hands-on demonstrations, you'll learn about inspection tools and smart inspection techniques.
This course is designed for maintenance technicians and operators to learn the fundamentals of equipment care, life extension of components and inspections techniques. All participants will receive training materials, hands-on exercises, Condition Monitoring Standards V1 ($195 value) and a training certificate for 12 hours of instruction.
Maintenance Training to Build Unity, Focus and Improved Reliability
Learn best practices at our training or conference events.
October 3 -4, 2023  January 22-23, 2024 and May 21-22, 2024
Work Management Planning & Scheduling
Get your workload under control
Effective Planning and Scheduling is a key to improving reliability and maintenance performance.  This course delivers the fundamental best practices and tools for planning and scheduling of maintenance work. You'll receive IDCON's "Maintenance Planning and Scheduling" book with your course registration, a $99 value
November 7-8, 2023,  March 18-19, 2024 and September 16-17, 2024
Develop and Manage Preventive Maintenance
Do you have the right Preventive Maintenance Strategy? Never question if you know the right task, right frequency, or right tool again with IDCON's "Develop and Manage Preventive Maintenance" training.
IDCON's PM/ECCM philosophy adapts the documentation method and level of detail, depending on the consequence of breakdown (criticality of the equipment/process) You will practice the concepts learned in class using common components, equipment and processes.
January 24 – 25, 2024 and November 18 – 19, 2024
Shutdown Turnaround Optimization Process
At University of TN Knoxville
Are your shutdown/turnarounds costing you valuable production time?  
IDCON's Shutdown Turnaround Optimization Program training teaches you how to stay on budget and minimize downtime through a 6-step process that focuses on countdown actions, tools, and resource optimization.  You'll received IDCON's Shutdown Turnaround Optimization – A Practical Guide with your course registration, a $99 value.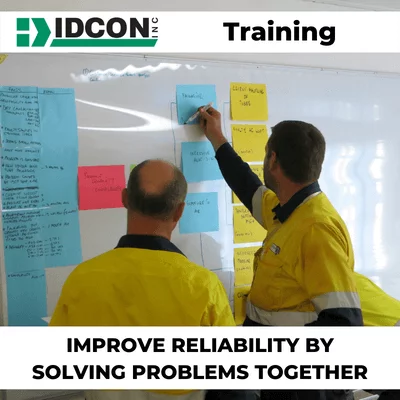 November 9-10, 2023 , March 20-21, 2024 and September 18-19, 2024
Root Cause Problem Elimination
Band-aid fixes and best guesses are costing you time and resources. IDCON's Root Cause Problem Elimination™ training focuses on eliminating problems, not just analyzing them. You'll learn a structured approach to problem elimination while learning a documentation method and implementation strategies for your organization.
February 19-20, 2024 and November 20-21, 2024
Materials and Spare Parts Management
Waiting for parts to arrive impacts productivity, reliability, and the bottom line.
Better management of this process is an untapped opportunity for organizations to improve reliability. This IDCON training gives you a better understanding of how to increase plant reliability and maintenance performance through improved management of spare parts and materials-related information.
Tor Idhammar will be presenting two sessions "Sell Reliability to Top Management" and "The Role of the Reliability Engineer"
Register
The IDCON Team has multiple workshops and sessions.
Meet with us in the Exhibit hall at booth 419
Purchase books in the Bookstore and Enter to Win a Prize