Join Our Summer Webinar Series
Preventive Maintenance Doesn't Take a Vacation
a series of 3 webinars to help you gain control and increase productivity at your plant
with Tor Idhammar
President IDCON Inc
Webinar 1: June 28th
Webinar 2: July 19th
Webinar 3: August 23rd
Live & Online
Reliability and Maintenance Training
Work Management Planning & Scheduling
Effective Planning and Scheduling is a key to improving reliability and maintenance performance. This course gives you practice in how to perform the essential functions of this work management process.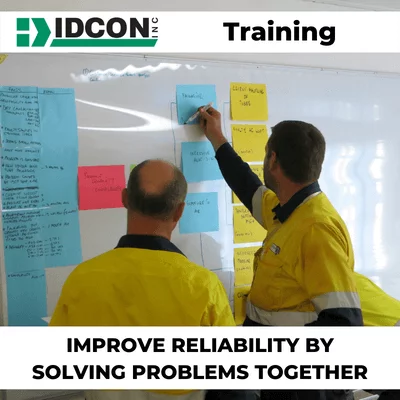 Root Cause Problem Elimination
Band-aid fixes and best guesses are costing you time and resources. IDCON's Root Cause Problem Elimination™ training focuses on eliminating problems, not just analyzing them. You'll learn a structured approach to problem elimination while learning a documentation method and implementation strategies for your organization.
2022 DCMUG + Reliability Summit
Hosted by TRM. In-person event.
Is your implementation of Maximo keeping up with Reliability & Maintenance best practices?
Learn how to incorporate them into Maximo at the only Maximo user group event offering expertise in both maintenance operation strategies and the industry-leading EAM solution. And leave with an understanding about how to resolve gaps between your technology and the people who use it so that you can finally achieve improved reliability and operational performance.
Materials and Spare Parts Management
Waiting for parts to arrive impacts productivity, reliability, and the bottom line.
Better management of this process is an untapped opportunity for organizations to improve reliability. This IDCON training gives you a better understanding of how to increase plant reliability and maintenance performance through improved management of spare parts and materials-related information.
There's great power when everyone is trained to do the same thing in the same way, with the same purpose. 
It creates unity. It grows confidence. It allows the team to refocus and do their job with energy and excellence.
With IDCON's reliability maintenance management training, you'll know your team is equipped to do their best work…today. 

Conferences
Speaking Engagements